SmartGrow™ Trading Strategy Auto Copy service

INSTANT FREE ACCESS TO OUR ONLINE TRADE COPIER

Welcome to our new trading system option, we are very excited to release this system to you available as a separate automated signal copy system to your metatrader account. SIGN UP FOR FREE TRADE COPIER SERVICE - NO VPS REQUIRED
AS WE USE A VARIED LOT SIZE, THIS MEANS THE PIP COUNT IS IRRELEVANT AS EACH TRADE HAS A DIFFERENT VALUE. PLEASE SEE OVERALL PROFIT/LOSS %
STOP MEASURING PIPS AND START CONCENTRATING ON OVERALL % PROFIT
Several Verified Trade accounts below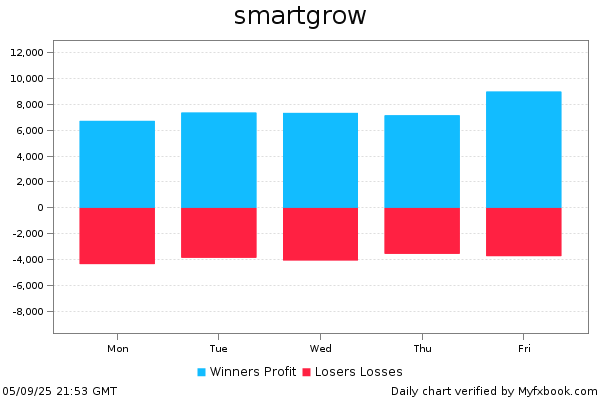 HOW DOES IT WORK?
This strategy is very clever, it will trade lot size of 0.01. The logic behind all trade entries is automated, this process is highly complex and very reliable for producing consistent profit week after week.
15%
Max Drawdown % (10k Account)
50
Minimum Account $ Balance - Cent account
5000
Minimum Account Balance - ECN Accounts
35%
Average % Profit Per month
We are offering this system as a trade copier service, this means all the trading activity will be replicated live to your chosen account with any broker of your choice.
THIS SERVICE IS AVAILABLE TO ALL TRADERS WORLDWIDE  USING ANY METATRADER 4 ACCOUNT
THIS IS A FREE SERVICE TO ALL - We have chosen this broker for a reason, not just for referrals. Our broker is secure, offers raw ECN spread and perfect trading conditions for this system to work well.
key benefits
NO NEW TRADING DURING NEWS EVENTS BEFORE/DURING/AFTER - USUALLY THIS IS A 2 HOUR WAIT
VARIED LOT SIZE STARTING AT 0.01
INSTANT TRADE COPY FROM MASTER TO SLAVE ACCOUNTS USING OUR COPIER SYSTEM
FULLY HOSTED TRADE COPIER SYSTEM - NO VPS REQUIRED!!
SETUP EMAIL/MOBILE ACCOUNT NOTIFICATIONS FREE USING METATRADER (SETUP GUIDES PROVIDED)
STOP/START TRADING AT ANY TIME
INSTANT ACCESS TO TRADE COPIER SYSTEM & 8 MIN SETUP GUIDE/VIDEO
CANCEL THIS SERVICE AT ANY TIME
TRACK PROGRESS ONLINE USING OUR TRADE LOGS AND STATISTICS PAGES
FULL 6 DAYS A WEEK SUPPORT VIA LIVE CHAT/SKYPE/EMAIL
FREE COPIER UPDATES
YOUR OPTIONS FOR USING THIS SERVICE -
We have made it possible for EVERYONE with all investment budgets to take part!
OPTION 1 - Preferred best broker 
MINIMUM STARTING BALANCE IS 300 + (BROKER 100% OFFER) - JOIN OUR PARTNER BROKER AND BE A PART OF OUR 270K TRADING PAMM SERVICE. ENJOY A SHARE IN OUR PROFITS EACH EASILY AND HASSLE FREE USING OUR TRADE COPIER SYSTEM AND REGULATED PAMM TRADER SYSTEM.
OPTION 2 - any broker any account
USE YOUR OWN ACCOUNT WITH ANY BROKER WORLD WIDE AND PAY A FLAT 44.99 PER MONTH FOR OUR ONLINE TRADE COPIER SERVICE.
THE MINIMUM BALANCE FOR THIS OPTION IS 7500.
OPTION 3 - xm.com micro trading account
OPEN A FREE, FULLY REGULATED XM.COM MICRO ACCOUNT AND START WITH A MINIMUM OF $750 BALANCE  $500 Deposit + 50% BROKER BONUS IN ORDER TO RECEIVE OUR SERVICE COMPLETELY FREE FOR LIFE AND TO START COPYING USING OUR ONLINE TRADE COPIER SERVICE.
OPTION 4 - SmartWin Challenge, Take a Look!
CLICK BELOW TO LEARN ABOUT OUR NEW CHALLENGE DESIGNED TO HELP YOU GET STARTED EASILY
CONTACT US IF YOU REQUIRE ASSISTANCE CHOOSING THE BEST OPTION FOR YOU. ANYONE AND EVERYONE CAN TAKE PART IN THIS SERVICE AND START TO FINALLY BENEFIT FROM THE FOREX TRADING REVOLUTION!
CLICK IF YOUR
SmartGrow - Survey From 150 Clients
Profitability
Trade Duration
Drawdown
Easy Of Access
Member Support