iSmartScalper Trade Copier & EA system
Our Expert adviser systems are by far the most reliable systems we have ever used – With a very specific trading strategies and strict stop loss in place we are able to create steady growth on account. When used correctly, our EAs are as safe as it can gets. NO Martingale or dangerous trading of any type!
See for yourself how secure and consistent it is
8 PAIRS  ASIAN MARKET HOURS  AVERAGE 15 TRADES/DAY   FIXED STOP LOSS ALWAYS
CLICK TO GO TO MYFXBOOK.COM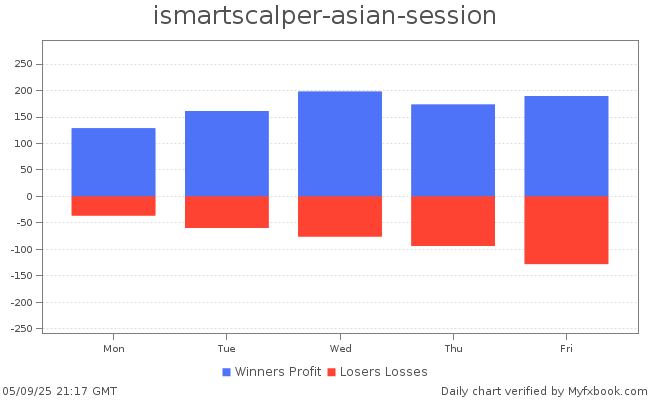 STRATEGY TEST
LIVE TRADING SESSION - 2 LIVE ACCOUNTS 2 DEMO ACCOUNTS TRADING - SELECT HD
18
Optimised Settings Provided
Figures above refer to $500 ECN trading account tested for 12 months under live conditions. 
Trade entire Asian Sessions - Medium Returns
Trade all Global Sessions - High Returns
Trade USA close to Asia Open - Most Secure
This strategy uses a FIXED and unmoved stop loss depending on the Currency pairs optimised settings used.
The FIXED stop loss will very rarely be needed as the system will ENTER/EXIT using variable trade logic meaning if a trade is going wrong and the conditions for reversal are not correct then the trade will be cut off early either in a small loss or small profit. Evidence of this is located within the MyFXbook History. 
With an 80%+ Win rate we are able to close profit overall despite seeing some small losses - This is reality and only once you can accept small losses can you begin to profit long term from trading Forex
User Feedback Satisfaction
Drawdown95%

Profit100%

Software Access100%

Software Setup98%

Value for money90%

Recommend to a friend97%
Need a good broker for LOW RISK LIVE TRADING? Join our best brokers to get your bonus + SmartFX Discount Code!



**Please contact us so we can supply your Special discount code whcih can be used on any service at smartfxtrader.com - Must open a live account with minimum $250 deposit
iSmartScalper Trade Copier Pro
No Vps required Trade Copier
Stop/Start trading at anytime
LIVE open/closed positions published